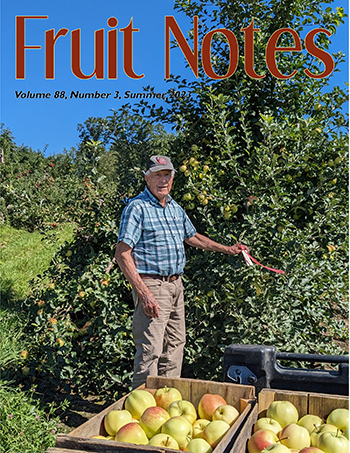 To read these issues, you must have Adobe® Acrobat® Reader™ installed on your computer. Click here to download it for free.
To advertise in Fruit Notes, please do so through the NJ Horticultural Society.
Fruit Notes and New Jersey Horticultural News are published concurently and advertising occurs in both publications.
| | |
| --- | --- |
| 1935-2004 | 2014 -- Volume 79 |
| Archive | Winter Issue, Number 1 |
| 2005 -- Volume 70 | Spring Issue, Number 2 |
| Winter Issue, Number 1 | Summer Issue, Number 3 |
| Spring Issue, Number 2 | Fall Issue, Number 4 |
| Summer Issue, Number 3 | 2015 -- Volume 80 |
| Fall Issue, Number 4 | Winter Issue, Number 1 |
| 2006 -- Volume 71 | Spring Issue, Number 2 |
| Winter Issue, Number 1 | Summer Issue, Number 3 |
| Spring Issue, Number 2 | Fall Issue, Number 4 |
| Summer Issue, Number 3 | 2016 -- Volume 81 |
| Fall Issue, Number 4 | Winter Issue, Number 1 |
| 2007 -- Volume 72 | Spring Issue, Number 2 |
| Winter Issue, Number 1 | Summer Issue, Number 3 |
| Spring Issue, Number 2 | Fall Issue, Number 4 |
| Summer Issue, Number 3 | 2017 -- Volume 82 |
| Fall Issue, Number 4 | Winter Issue, Number 1 |
| 2008 -- Volume 73 | Spring Issue, Number 2 |
| Combined Issue | Summer Issue, Number 3 |
| 2009 -- Volume 74 | Fall Issue, Number 4 |
| Combined Issue | 2018 -- Volume 83 |
| 2010 -- Volume 75 | Winter Issue, Number 1 |
| Summer Issue, Number 3 | Spring Issue, Number 2 |
| Fall Issue, Number 4 | Summer Issue, Number 3 |
| 2011 -- Volume 76 | Fall Issue, Number 4 |
| Winter Issue, Number 1 | 2019 -- Volume 84 |
| Spring Issue, Number 2 | Winter Issue, Number 1 |
| Summer Issue, Number 3 | Spring Issue, Number 2 |
| Fall Issue, Number 4 | Summer Issue, Number 3 |
| 2012 -- Volume 77 | Fall Issue, Number 4 |
| Winter Issue, Number 1 | 2020 -- Volume 85 |
| Spring Issue, Number 2 | Winter Issue, Number 1 |
| Summer Issue, Number 3 | Spring Issue, Number 2 |
| Fall Issue, Number 4 | Summer Issue, Number 3 |
| 2013 -- Volume 78 | |
| Winter Issue, Number 1 | 2021 -- Volume 86 |
| Spring Issue, Number 2 | Winter Issue, Number 1 |
| Summer Issue, Number 3 | Spring Issue, Number 2 |
| Fall Issue, Number 4 | Summer Issue, Number 3 |
| | Fall Issue, Number 4 |
| | 2022 -- Volume 87 |
| | Winter Issue, Number 1 |
| | Spring Issue, Number 2 |
| | |
| | Fall Issue, Number 4 |
| | 2023 -- Volume 88 |
| | Winter Issue, Number 1 |
| | Spring Issue, Number2 |
| | Summer Issue, Number3 |
SEARCH UMass FRUIT Notes